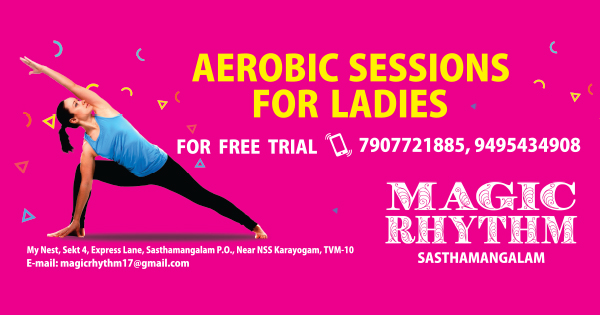 Whether old or young, people have always felt the need to be healthy as well as to express and move. Exercise arouses happiness hormones, helps against stress, burns calories and is simply fun. A healthy mind in a healthy body; that sounds good and is definitely desirable.
*Cast a MAGIC spell on your age ladies. So that you all remain 18 and healthy forever. No matter what age group you belong to, there is this place you can reshape your body and mind.
MAGIC RHYTHM, the aerobic and dance studio at SASTHAMANGALAM gives you the right space to sweat it out in great fun. There is a lot of swaying to the music, twist and shout and of course a learning process to dance a step or two.
AEROBICS stands as the best style to defend lifestyle diseases. At magic rhythm, the guidance is not just confined to physical exertion but it's a blend of mind relaxation as well.
Designed by Mrs Rekha Rajesh, a bharathanatyam exponent and a very professionally seasoned artist, the program at magic rhythm is very much "Unique" and effective for the modern woman.
Magic Rhythm
ADDRESS | My Nest, Express Lane.,Sasthamangalam , Trivandrum,
CALL | 07907721885
EMAIL | magicrhythm17@gmail.com