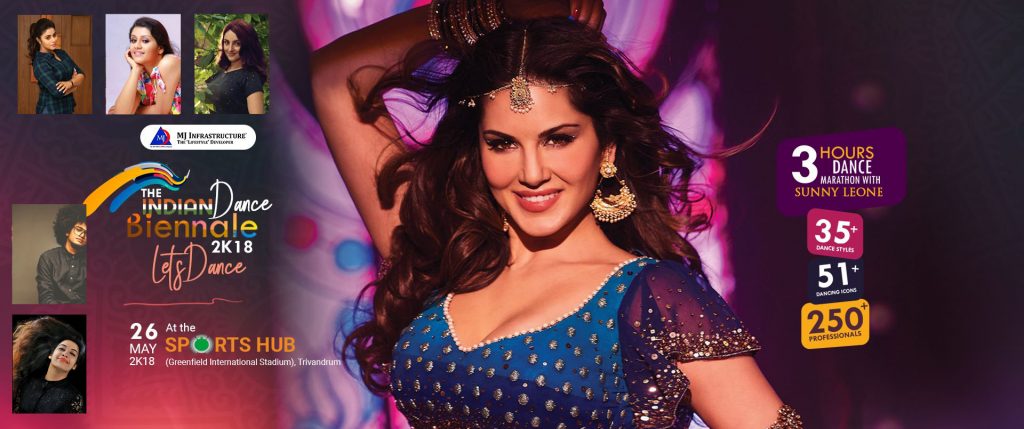 EVENT DATE: 26th May 2018      |     EVENT TIME: 19:00 – 23:30
The Indian Dance Biennale 2K18 is presented by Dr P Anil Kumar, Chairman and Managing Director, MJ Infrastructure, Bangalore and Oshma Club 69 . MJ Infrastructure, particularly the name 'MJ', is a recognized builder that has been committed to excellence since 1999 and has been relentless in perfection and commitment to become the leading Engineering and Construction firm in India delivering projects that consistently meet international standards.
Ms. Sunny leone shall lead the show in Indian Dance Biennale 2K18, accompanied by other stars, Ms. Shamna Kasim, Ms. Paris Laxmi, Ms. Sarayu Mohan and supported by renowned dancing stars , Mr. Shiva with a crew of 50 dancers and 50 other supporting artists. The show with altogether 250 artists performing, non- stop for 3 hours,  with  35 to 40 dance forms representing Indian as well as International dance varieties which no doubt shall enthrall and mesmerize the crowd.
First of its kind in Asia and the The Indian Dance Biennale 2K18 has already got nominated to the 'The Universal Record Forum', for the most dance forms to be performed in a single stage.
BOOKS YOUR TICKETS ONLINE